Can I control pneumatic pressure using Ethernet IP?
This article describes a product that can control pneumatic pressure via Ethernet IP.
Yes!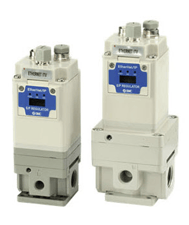 Series ITV is an electro-pneumatic regulator that controls air pressure with an electric signal. This EtherNet/IP™ version, designed and built in SMC's North American headquarters, now includes a 2nd generation chipset with new features and upgrades. The new design is CE and UL certified, while also meeting the ODVA specification. The IP address can now be set with a DIP switch. An integrated 2-port switch, Quick Connect, and Device Level Ring allow this ITV to operate in typical manufacturing network topologies. If the installation requires more than one regulator, the ITVs can be daisy chained. Power over Ethernet is available for up to 5 units. The new dynamic web page design includes pressure settings and feedback in engineering units. Gain and sensitivity can also be adjusted. Expanded fault diagnostics and alarm enable quicker troubleshooting for reduced downtime. In the event of a lost connection, the regulator holds the set point pressure to maintain the machine's operation.
Power supply voltage: 24 VDC ± 10%
Connector: 4-pin M12
I/O signal: 12 bit resolution
Linearity: ± 1% F.S.
Hysteresis: ± 0.5% F.S.
Repeatability: ± 0.5% F.S.
Sensitivity: ±0.2% F.S.
Enclosure rating: IP65