Enhanced Machine Safety, Personnel Protection, and Easier Installation
ES&E offers the 440G-EZ and 440G-MZ Guard Locking Safety Switches. The 440G-EZ and 440G-MZ Guard Locking Safety Switches are devices designed to help ensure the safety of personnel and machinery in industrial environments. These switches are typically installed on machine guards or gates to prevent the machine from operating while the guard or gate is open. When the guard or gate is closed, the switch allows the machine to be operated. If the guard or gate is opened while the machine is running, the switch will trip and stop the machine, helping to prevent accidents and injuries.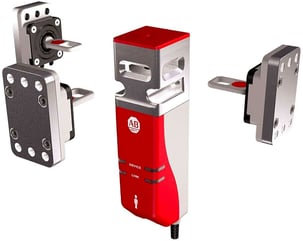 The 440G-MZ Guard Locking Switches help protect personnel and are suitable for many types of guard doors, including full-sized guard doors. These switches allow full-body access to the safeguarded area, where a high holding force and a wide tolerance to guard misalignment, and an escape release option are commonly required. The 440G-MZ has embedded GuardLink technology which makes it a smart device and enables premier integration.
The 440G-EZ Interlocking switch is designed to enhance machine safety and reliably help protect a working process from unplanned downtime, which will help improve productivity and increase efficiency. This safety switch combines a Power to Lock (PTL) magnetic locking function with a 500 N holding force and generous 5 mm tolerance to misalignment.
Click the link below to learn more or to speak to an Automation Specialist.