Powerful, scalable visualization solutions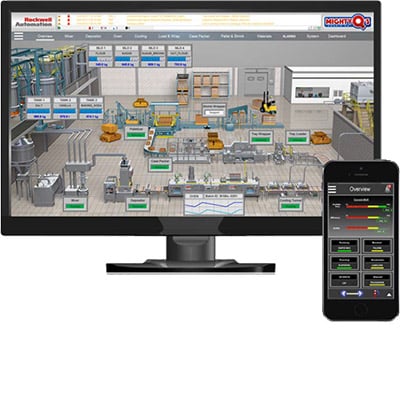 FactoryTalk View SE meets the demands of a modern HMI - connecting people to the information they need to do their job. With production hardware and software integration, tools that let operators access the information they need, and support for new technologies, FactoryTalk View SE makes it possible to deliver the information required to make faster and better decisions. From a single workstation up to a complex distributed system, FactoryTalk View SE is the tested solution with the flexibility required.
With FactoryTalk View SE V13, Rockwell Automation has strengthened their platform through new features that deliver platform sustainability, enhanced existing system components, and introduced commercial changes that make it easier than ever before to choose FactoryTalk View SE as your HMI solution.
Lower Total Cost of Ownership
New lower product pricing and support structure make growing pains a thing of the past as distributed system support is now based on the number of servers with no added support costs for additional clients.
Unlimited Displays and Web Clients
Create as many displays as you need and adopt all faceplates from the Rockwell Automation Process Object Library, as all servers include unlimited two displays and web/mobile clients.
Modernization and System Longevity
With a modern design user interface and new options for scripting and graphics, FactoryTalk View SE is the modern HMI solution you can count on.


Discover the benefits of this powerful, scalable visualization solution that will provide reliable functionality.
Click the link below to learn more or to speak to an Automation Specialist.