Stratix 5800 high performance managed switch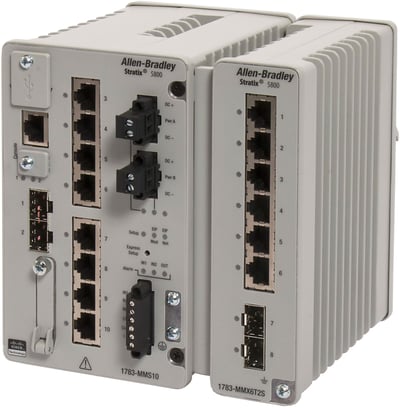 The Allen-Bradley Stratix 5800 managed industrial Ethernet switch offers gigabit performance in a flexible package. It comes in both fixed and modular designs supporting a wide variety of copper, fiber, and PoE expansion modules and is available with Layer 2 switching or Layer 3 routing firmware options to meet a diverse range of application needs.
When used as a layer 2 switch, the Stratix 5800 is ideal where high-performance end devices are located. When used as a Layer 3 switch, routing is enabled between segmented networks for better performance and protection from unwanted network traffic. Segmenting the network helps to ease changes that simplify security management by building domains of trust and increasing efficiency.
The Stratix 5800 includes a robust set of switching, routing, and security features to support a wide range of architectures and uses the Cisco IOS-XE operating system for optimized compatibility to the enterprise environment.
The Stratix 5800 can help to provide optimized integration, allowing you to experience easier commissioning and actionable diagnostics.
Click the link below to learn more or to speak to an Automation Specialist.