Discover the next generation of Allen‑Bradley PowerFlex AC Drives!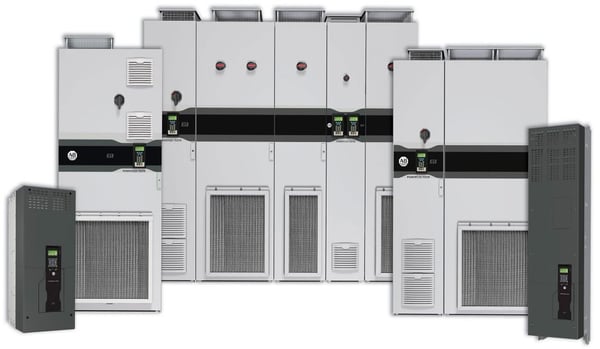 Need around-the-clock dependability? Let PowerFlex 755TS drives do the heavy lifting. You'll increase productivity and uptime, and reduce energy and maintenance costs. Featuring patented TotalFORCE technology, these six-pulse variable frequency drives deliver flexible, high-performance motor control, real-­time operational intelligence and eased application commissioning and optimization. Designed for countless motor control applications and industries – from standard to the most demanding industrial control challenges – these drives help deliver the productivity and throughput you need.
This next generation of PowerFlex drives is suited for all your industrial applications. Look to the PowerFlex 755TS drives for common traditional variable frequency drive applications and specialized applications that require high-performance motor control. Supporting multiple motor types and multiple motor control modes gives you the advantage to use a common drive for multiple applications – simplifying parts, training, and support.
The new PowerFlex 755TS drive is the first six-pulse drive to incorporate TotalFORCE technology from Rockwell Automation to help customers get the most out of their equipment. Smart drive capabilities with TotalFORCE Technology include:
Increased security

Rich, fast data

Corrosive gas protection

Start up faster, run longer

Energy savings
It's engineered to deliver greater production output, uptime, energy savings, and plant safety.
Click the link below to learn more or to speak to an Automation Specialist.