Select the right on-machine solution to meet your needs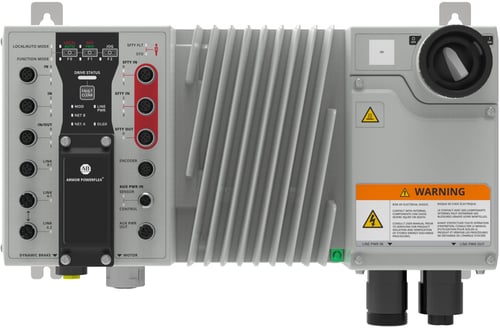 Looking for a drive that meets your most demanding applications? The Allen-Bradley Armor PowerFlex 35-series On-Machine drives are a new generation of On-Machine motor control solutions that can help you do that. They provide integrated gigabit dual-port EtherNet/IP, various motor control options, flexible mounting options and hardware, and network safety features. It is integrated with Logix and Studio 5000 design software for exceptional performance and ease.
These drives provide an integrated, near-motor, pre-engineered solution designed for harsh environments where reducing installation time and cost are most critical. Armor PowerFlex drives combine an innovative design that will reduce installation cost, installation time, and unplanned downtime. It replaces multiple components with one integrated motor control solution.
Rockwell Automation has taken On-Machine motor control to the next level with Armor PowerFlex motor control solutions. Smart, safe, secure, and simple – Armor PowerFlex drives are a scalable solution designed to help meet your application needs. The On-Machine solution is a decentralized equipment design approach that helps reduce the challenges seen in cabinet-based solutions for OEMs and end users.