Discontinuation of Photoelectronic Sensors
As of January 2023, upon inventory depletion, the Series 4000, 5000, and 6000 Photoelectric Sensors will be discontinued and no longer available for sale due to the obsolescence of critical components needed to maintain manufacturability.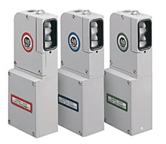 The Series 4000
Full-size, self-contained sensors that operate in a wide range of industrial applications. A wide selection of plug-in timing modules, including ON and OFF delay, one-shot, delayed one-shot, motion detector, and counting modules, increase the application-solving capability.
The Series 5000
A general-purpose modular family of photoelectric sensors with a wide range of sensing modes. This family is offered with a separate sensing head, power base, and plug-ins(green line only) to allow for maximum application flexibility.
The Series 6000

A general-purpose family of photoelectric sensors with a wide range of sensing modes that can be mounted using two 1-20 UNF thread nuts or 3.6 mm side mounting holes. The family is offered in DC and AC/DC models and is designed to operate down to -40C temperatures.
For AC/DC applications, we are recommending that customers migrate to Rockwells newest solutions developed in the 42AF RightSight™ M30 and the Series 9000™ Photoelectric sensors. These replacements have different form factors and mounting styles than the Series 4000, 5000, and 6000 families of sensors, so it is critical that you consider the spacing and mounting limitations as part of the selection of which new family will be best suited for your application. However, there are other alternatives within the portfolio that may be better suited for your application.
If you need help creating a migration plan for the discontinuation of these sensors, we recommend contacting one of our specialists to see what replacements are available.
Click the link below to learn more or to speak to an Automation Specialist.